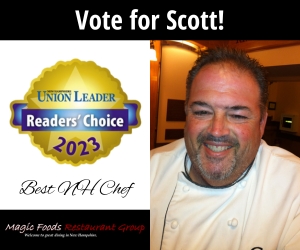 Scott Ouellette is a prominent figure in the New Hampshire culinary scene, having earned accolades and recognition for his culinary skills and leadership. He is the co-owner of Magic Foods Restaurant Group, alongside Andy Juhasz, as well as the executive chef at Canoe Restaurant and Tavern, a highly acclaimed establishment known for exceptional food, ambiance, and service.
Ouellette's culinary style is a fusion of classic techniques and contemporary flavors, resulting in dishes that are innovative, bold, and deeply satisfying. He sources local and seasonal ingredients, and his menus are designed to showcase the natural flavors and textures of the ingredients.
If you are a food lover and appreciate the artistry of culinary creations, voting for Scott Ouellette as Best NH Chef in the 2023 Union Leader Readers' Choice awards could be a great way to acknowledge his contribution to the culinary landscape of New Hampshire. His dedication, passion, and talent have earned him a place among the best chefs in the region, and your vote can help him gain the recognition he deserves.
Will you help Scott Ouellette win Best NH Chef for the second consecutive year? Click here to read about how he won gold for Best New Hampshire Chef in the 2022 Union Leader Readers' Choice awards.
In addition to Best NH Chef, Magic Foods Restaurant Group encourages you to vote for our unique New Hampshire restaurant locations. Please consider us in the suggested categories listed below!
Click here to vote in the 2023 Union Leader Readers Choice awards today!