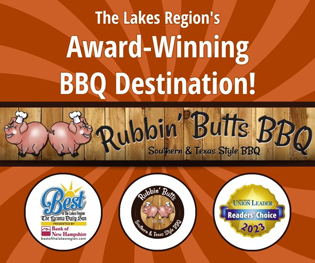 If you're craving an authentic Southern and Texas-style barbecue experience, look no further than Rubbin' Butts BBQ in Center Harbor! Their mouthwatering menu boasts slow-smoked baby back ribs, tender pulled pork, and delectable sides like house-baked beans, broccoli salad, and cornbread that will leave you fully satisfied and eager to return for more. Located across from the charming town beach, this fun and laidback Magic Foods Restaurant Group location offers limited indoor dining, cozy outdoor seating, takeout, and catering options to cater to every preference. Make your plans to visit Rubbin' Butts BBQ today and indulge in the best BBQ in the Lakes Region of NH!
Rubbin' Butts BBQ claimed the top honor in the esteemed Best of the Lakes Region Awards for 2023. This is the second time in three years that Rubbin' Butts BBQ has won the prestigious Gold Best BBQ accolade, a testament to their unwavering dedication to crafting tantalizing dishes that keep patrons coming back for more.
The excitement doesn't end there! In the 2023 Union Leader Readers' Choice Awards, Magic Foods Catering, O Steaks & Seafood, and Rubbin' Butts BBQ have all received well-deserved recognition, solidifying their status as the epitome of culinary excellence in the local New Hampshire dining scene. Rubbin' Butts BBQ, in particular, secured second place for "Best Barbecue," earning high praise for their finger-licking smoked meats, flavorful sauces, and hearty sides, making them a beloved dining destination in the Lakes Region.
In a delightful twist, Chef Ben has returned to Rubbin' Butts BBQ in 2023, infusing the menu with exciting new flavors and creations. He has added his personal touch to the menu by introducing house-made pickles. Patrons can now relish in the tangy goodness of spicy garlic dill pickles, heavily brined with jalapenos, garlic, and loads of dill, providing just the right amount of zip without overwhelming spice. For those seeking a burst of Southeast Asian-inspired flavors, there's another pickle option that features basil, mint, cilantro, ginger, garlic, mustard seed, and peppercorn. These vibrant pickles complement the BBQ fare perfectly, adding a refreshing twist to every bite.
If that's not enough to entice your taste buds, Chef Ben has taken it upon himself to create artisanal bacon, elevating the BBQ experience even further. Offering rotating flavors, you can now indulge in peppered bacon, jalapeno bacon, and dry salt-cured bacon, all crafted with the utmost care and attention to detail. Fresh, delicious bacon in one-pound packages is now available, ensuring you savor every morsel of this mouthwatering delight.
Visit Rubbin' Butts BBQ today and embark on a culinary journey that celebrates the art of barbecuing, the magic of flavors, and the dedication of a chef passionate about bringing the best to your plate. With Chef Ben's creative flair and the restaurant's award-winning reputation, you're in for a treat that will leave you coming back for more of the Lakes Region's finest BBQ experience.