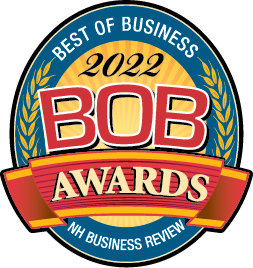 Magic Foods Restaurant Group is thrilled to announce that O Steaks & Seafood won TWO BOB Awards in 2022:
Best Business Dinner in the Greater Concord Area
Best Business Dinner North of Concord
Thank you so much to each person who took the time to vote for O Steaks & Seafood. The team appreciates this tremendous support and looks forward to providing unforgettable dining experiences for you and your business associates for years to come.
About NH Business Review's BOB (Best of Business) Awards
This year, NH Business Review presented the winners of their 15th annual BOB Awards, which honor the Best of Business in New Hampshire for 2022. Each year, their readers vote for the Granite State's most stand-out businesses – the ones that go above and beyond to ensure exceptional products and services with the utmost attention to detail and delivery on customer satisfaction. The BOB Awards distinguishes these businesses from the rest, serving as an endorsement from industry members who regularly depend on them to fulfill their day-to-day functions. More than 3,000 businesspeople took time out of their busy schedules to highlight the businesses that contribute to New Hampshire's economic engine and are essential to the business community.