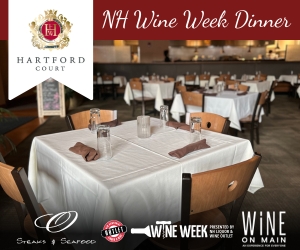 Get ready for an extraordinary evening of exquisite wines and tantalizing cuisine as Hartford Family Winery's renowned winemaker, Tiann Lordan, joins forces with O Steaks & Seafood Concord. This exceptional NH wine week dinner, scheduled for Wednesday, June 14th, promises to be an unforgettable experience for wine enthusiasts and food connoisseurs alike. With limited seating available, make sure to secure your reservation early to partake in this remarkable event.
Located in the heart of the Russian River Valley in California, Hartford Family Winery has gained a stellar reputation for producing exceptional wines that capture the essence of the region. Tiann Lordan, a talented winemaker that has been part of the Hartford team since 2010, will be the special guest for the evening, sharing his expertise and passion for winemaking with attendees.
Prepare your taste buds for an extraordinary culinary journey curated by Chef Matthew Provencher and his team at O Steaks & Seafood. Each course has been thoughtfully designed to complement the characteristics and flavors of the exquisite wines from Hartford Family Winery.
First Course
Slow Roasted Monkfish
Thai Lobster Velouté and a Warm Bok Choy Salad
Chardonnay
Second Course
Barn Yard Tasting
Crispy Pork Shoulder with Ginger-Rhubarb Compote and Watercress
Duck Confit with Marinated Dunks Mushrooms and a Celery Root Slaw
Pinot Noir
Third Course
Local Marinated Strawberries with Peanut Butter Sabayon
Chocolate Wafers
Zinfandel
As you savor each bite and sip, Emma Stetson, the owner of Wine on Main, will be available throughout the evening to assist you with any custom wine orders you may wish to make. This is an excellent opportunity to expand your wine collection or discover new favorites to enjoy at home.
The NH wine week dinner will begin with a reception at 6:30pm, followed by dinner at 7:00pm. The cost per person for this extraordinary experience is $95, exclusive of tax and gratuity. To secure your reservation, a non-refundable deposit of $25 is required, with a 48-hour notice for cancellations.
Due to the limited seating available, it is advisable to make your reservations as soon as possible. Call (603) 856-7925 to secure your seat today!