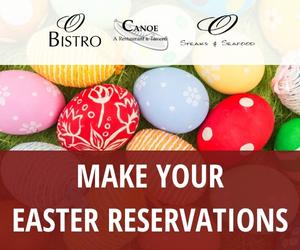 Magic Foods Restaurant Group is excited to be developing our incredible Easter menus so we can help you and yours celebrate the upcoming holiday.
As our custom-created Easter menus are finalized, we will update this article with additional details so bookmark this page to check back often for available details. We will be serving Easter brunch, lunch or dinner at several Magic Foods Restaurant Group locations, including Canoe Restaurant and Tavern, O Bistro, and O Steaks & Seafood in Laconia.
Space is limited so we recommend making your holiday reservations today. To make a reservation, tap the phone number below next to your favorite Magic Foods Restaurant Group location to call and speak with a member of our staff.
Easter menus will be posted here as they become available.
From all of us here at Magic Foods Restaurant Group, we wish you a very Happy Easter. Thank you for your continued support, and we look forward to your next visit.